LTR – Visual Album Concept
Creative Fields :
Creative Direction
Art Direction
Graphic Design
Final Art
Producer
Manuscript
Directon
Casting
Styling
Location scout
Dutch music producer and DJ-duo Lucas & Steve have past the 1 billion streams on their music. 2020 they released their first album "Letters to Remember". We were asked to create the visual album concept covering album cover, single covers, photo art direction, merchandise, lyric video, launch party VJ-visuals and writing, directing and producing the official music video.
A music album is no longer only a physical object, it's part of something larger. A great cover is much more than just an image it's something alive in our digital world that we experience in various ways. It is a story in a context for the audience to participate in.

The music is full of happiness and joy, giving a notion of freedom and rebellion while the lyrics were full of memories of young love and heart-pounding interactions. At the beginning the album was even going to called "memories to remember" which explains Lucas & Steves vision and inspiration.

A road trip concept came naturally, with all the memories and experience it can hold and generate. All visual content is surrounded by this unwritten fictional story that anyone can relate to.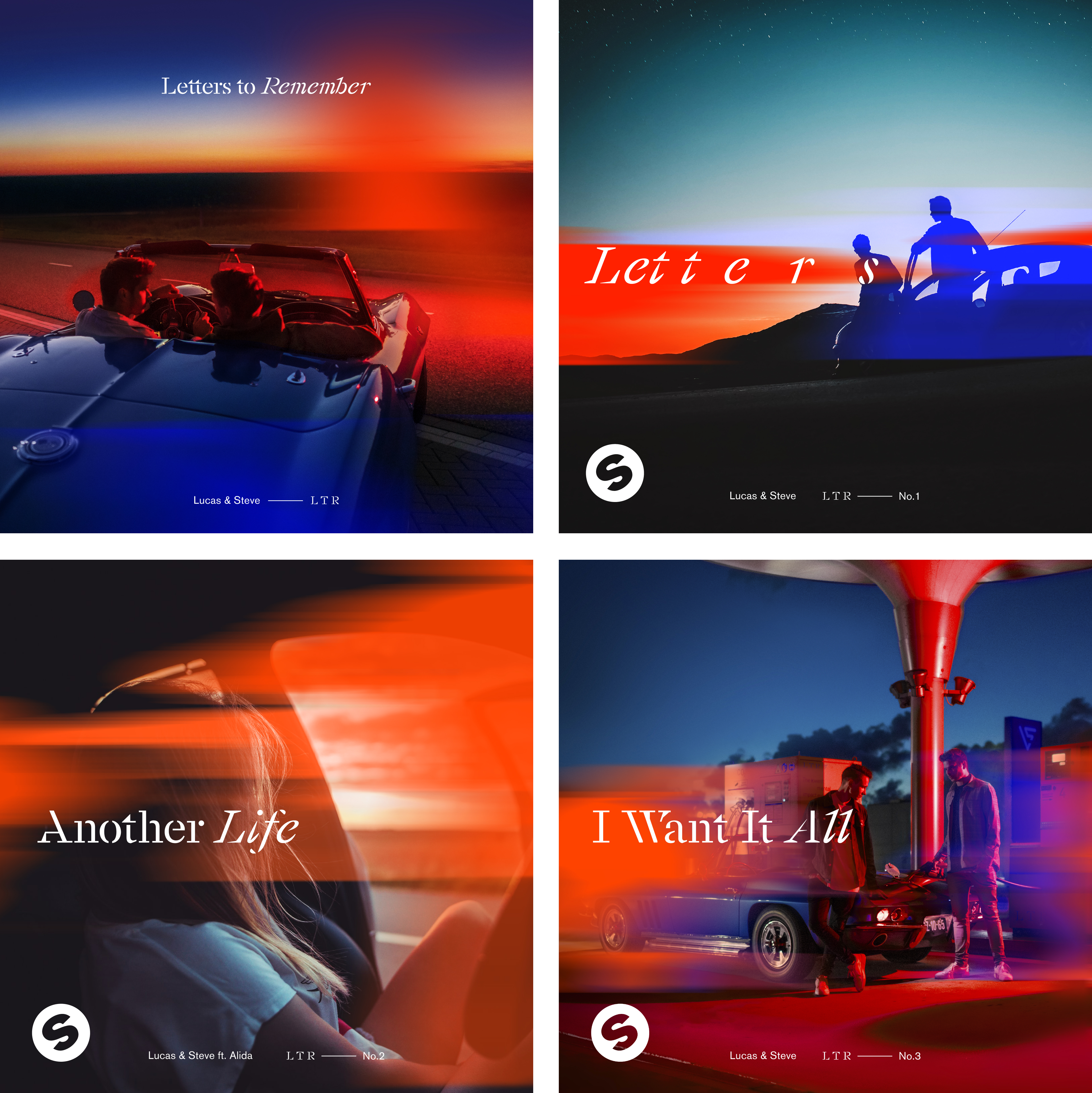 Graphic colour concept
The colour concept is born out of an interpretation of their graphic brand concept we have created for them and where orange is their main brand colour.

Merchandise Collection "LTR" (Letters To Remember)
Official Music Video "I Want It All"
Young Love. One room. One night. Nothing else matters. The story takes place on a road trip at a point where two strangers meet. Love struck immediately, knowing that it soon has to come to an end. We follow this memory of the one night they spend together. Part of the narrative is divided into both points of views, one of them in red the other one in blue. Red representing her view and blue representing his view.

Cinematographer: Viktor Annerstål
Production manager: Boris Vergara
Hair & Make Up: Elva Ahlbin
Gaffer: Erik Hassel
Colorist: Simona Molina Bravo
Talents: Vjosa Halili and Karl Svensson
2021-02-25: 635 455 views – Premiered on 16 Oct 2020
Lyric Music Video for the track "Another Life"

Director: Martin Sandin
DoP: Viktor Annerstål
Project managment: Acid and Marble
Gaffer: Olle Kling
2021-02-25: 1 100 460 views – Premiered on 4 Sep 2020
Screenshots of Visuals for the drive through premiere show
Posters